House Gives Bipartisan Approval to Legislation that Protects Workers from Captive Audience Meetings
David C. Dal Zin
29 Apr, 2022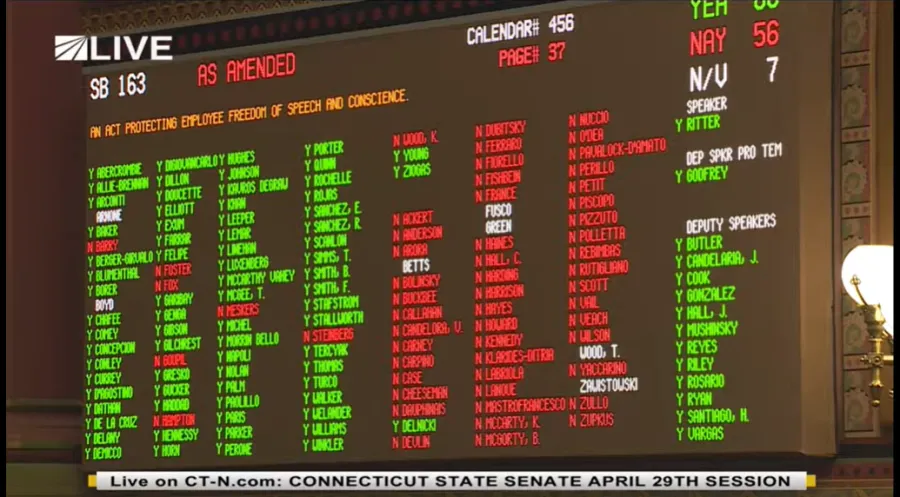 HARTFORD – The Connecticut House of Representatives gave bipartisan approval on Friday evening to legislation that would give workers the right to leave captive audience meetings and return to work when the meeting is about the employers' position on politics, religion, or union organizing.
"The labor movement is incredibly grateful to the Representatives that voted to protect workers from employer intimidation and harassment during union organizing campaigns," said Ed Hawthorne, President of the Connecticut AFL-CIO, which represents over 200,000 union members across the state. "No employer should be able to force a worker to attend a meeting to coerce their opinions on religion, politics, or union organizing. And no one should be fearful at work for exercising their right to join a union."
Captive audience meetings are mandatory meetings held during work hours to pressure employees to support political candidates or vote against forming a union. They are held in the vast majority of union organizing campaigns and management frequently threatens workers in these meetings.
John Brady, a former Registered Nurse at Backus Hospital, explained how coercive these meetings are for workers.
"You know, captive audience meetings are well named," said Brady. "You're captive."
When Brady was helping organize his union at Backus, management forced healthcare workers into one-on-one meetings.
"We stepped into a supply closet," explained Brady. "The door closed behind and they stood with their back to the door… There was no other way out."
An employee who refuses to attend a captive audience meeting is currently at risk of being terminated. Even speaking up during these meetings puts the worker at risk of being disciplined.
Opponents of the legislation argued the proposal would be pre-empted by federal law.
However, Attorney General William Tong issued an opinion in 2019 that the captive audience proposal is not preempted under the National Labor Relations Act. The current proposal is substantively identical to the proposal in 2019.
"Workers should not be forced to listen to their employer's religious or political views—including anti-union rhetoric," said Attorney General Tong. "The Office of the Attorney General has carefully reviewed this legislation and stands ready to defend the statute against any challenge."
Connecticut is poised to be the second state in the nation to pass legislation protecting workers from being forced to attend captive audience meetings.
"Working people in Connecticut are extraordinarily fortunate to have William Tong as our Attorney General," said Hawthorne. "He has been a staunch advocate for workers across our state – from his time helping dealers organize at Foxwoods to testifying last month to protect workers from intimidation and harassment. His legal expertise was vital in crafting this bill to ensure it would survive legal challenges."
Judiciary Committee Co-Chair Steve Stafstrom lead the debate in support of the bill with support from fellow Democrats and Republican Rep. Tom Delnicki.
The legislation, Senate Bill 163, received bipartisan approval in the Senate last week and now goes to Gov. Lamont's desk where he is expected to sign the bill into law.
# # #
Hear from workers and organizers in their own words about captive audience meetings and why this legislation is important: www.ctaflcio.org/captive-audience