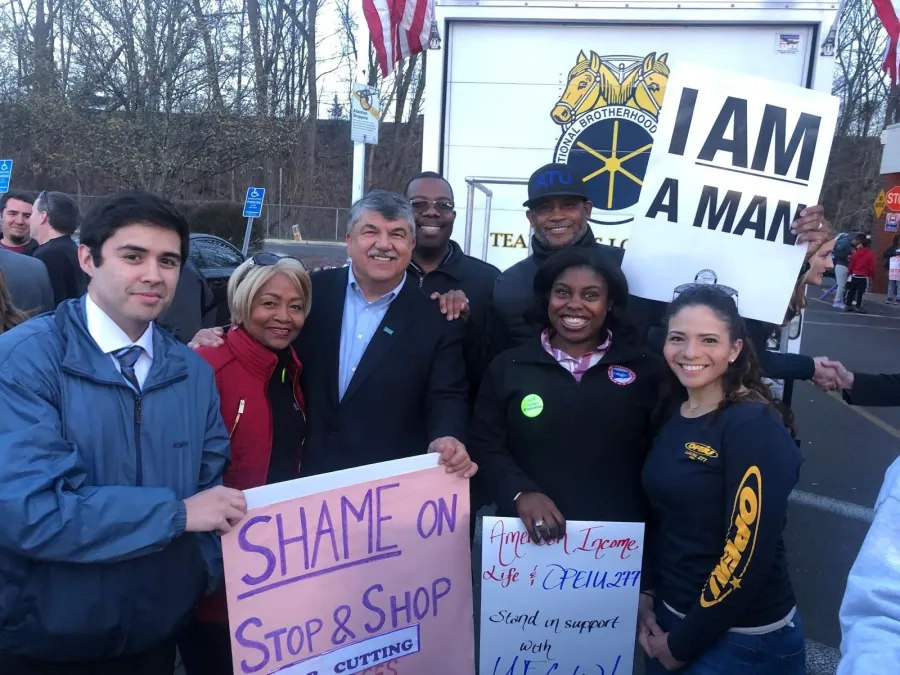 The Connecticut AFL-CIO, national AFL-CIO, AFSCME Council 4, AFT Connecticut, and 32BJ SEIU made the following statements on the passing of AFL-CIO President Richard Trumka:
Sal Luciano, President of the Connecticut AFL-CIO:
"The entire labor movement is grieving as the nation lost a true champion for working people. From his early days as a coal miner to President of the 12.5 million member AFL-CIO, Trumka dedicated his entire life to championing workers' rights.
"Today is a dark day for our movement, a dark day for workers across our state, and no words can adequately express the pain we are feeling. There was not a day in his life where President Trumka was not unequivocally, wholeheartedly committed to empowering America's workers.
"Just over two years ago, President Trumka was walking the picket line with UFCW members on strike at Stop & Shop in New Haven. He never forgot where he came from. Even after delivering an impassioned speech in support of the strikers, he made sure to walk and talk with rank-and-file members on the line.
"We are going to miss him tremendously. As our fight for working people in Connecticut continues, I know his spirit, his strength, and his tenacity will guide us forward."
Tim Schlittner, Communications Director of the AFL-CIO:
"The labor movement, the AFL-CIO and the nation lost a legend today. Rich Trumka devoted his life to working people, from his early days as president of the United Mine Workers of America to his unparalleled leadership as the voice of America's labor movement. He was a relentless champion of workers' rights, workplace safety, worker-centered trade, democracy and so much more. He was also a devoted father, grandfather, husband, brother, coach, colleague and friend. Rich was loved and beloved. Today, the 56 unions and 12.5 million members of the AFL-CIO mourn the passing of our fearless leader and commit to honoring his legacy with action. Standing on Rich's shoulders, we will pour everything we have into building an economy, society and democracy that lifts up every working family and community."
Jody Barr, Executive Director of AFSCME Council 4:
"Richard Trumka made Connecticut and our entire nation a better place for working families. A few years back, Rich visited the Connecticut Department of Labor's Hartford office to recognize our AFSCME Local 269 members for their work on a program to help military veterans get reemployed. 'The best way to support our troops is to give them a good job that pays them decent wages and benefits whenever they come home,' he told DOL staff and military veterans in attendance. What Rich said about veterans was something he believed in for all workers. May he rest in power."
Jan Hochadel, President of AFT CT:
"There are not enough words to adequately sum up Richard Trumka's legacy of labor leadership, civic engagement and political advocacy. Richard offered countless examples of inspiration that helped many - myself included - gain the courage to step up and run for union office ourselves. Much of the credit for the strength and solidarity of our movement today goes to Richard for his decade at the helm of the AFL-CIO. The best way to honor his memory is to carry on the fight for a better future for all working families that guided so much of his life."
Rochelle Palache, Vice-President of 32BJ SEIU and head of the union in Connecticut:
"As 32BJ President Kyle Bragg said today, we mourn the loss of a great advocate for working people and extend our deepest sympathies to President Trumka's family and all his union brothers and sisters. Having lost former 32BJ President Hector Figueroa only two years ago, we also know the pain and shock of suddenly losing a transformational leader, and we offer our support as well as our condolences in this grievous moment."
# # #