UFCW Supports Workforce Development for Good-Paying Jobs in CT's New Adult-Use Cannabis Industry
UFCW Locals 371 & 919
16 Mar, 2022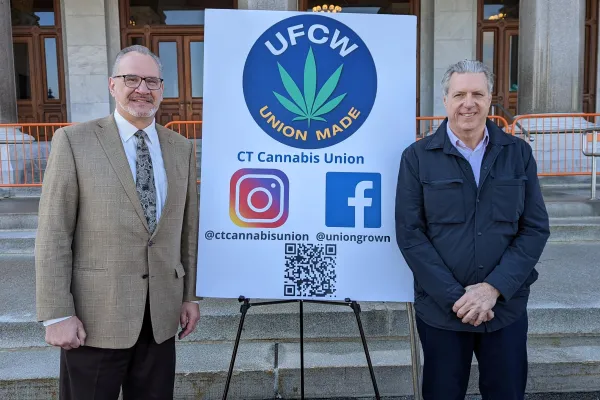 HARTFORD, CT – Today, United Food and Commercial Workers (UFCW), the union for over 13,000 Connecticut frontline workers, were joined by lawmakers Sen. Kushner and Rep. Porter to discuss the importance of worker protections and workforce development in the state's newly emerging cannabis industry. UFCW announced workforce development programs for those interested in the industry and shared how they support good-paying, secure jobs to continue career development. Speaking will also be Business owner, Luis Vega, CEO of Nautilus Botanicals who recently signed a Labor Peace Agreement (LPA) with UFCW in an effort to establish a unionized cannabis workforce in the state stood with UFCW. This comes after Governor Lamont and legislative leaders made history last year by making Connecticut the 19th state to legalize adult-use cannabis.
Standing in support of UFCW as the state's Cannabis Union was Connecticut's AFL-CIO President Ed Hawthorne, who has endorsed UFCW as the Connecticut Cannabis Union. The American Federation of Labor and Congress of Industrial Organizations (AFL-CIO) in 2019 endorsed UFCW as the Cannabis Union. In addition to Tom Long, VP Communications & Operations at The WorkPlace, to promote the importance of training programs and opportunities to reach those who have been impacted by the war on drugs. If you're interested in signing an LPA with UFCW please contact Emily Sabo at emilysabo@ufcw919.org or 860-677-9333.
Labor Committee Co-Chairs Senator Julie Kushner and Representative Robyn Porter:
"When we are bringing a new – very profitable – industry like cannabis into Connecticut, we need to ensure that Connecticut working families benefit from this economic growth.  In other words, we must guarantee that this new industry provides good jobs with good wages and good benefits. There's plenty of data that shows that unionized workers earn more and have better benefits than their non-union counterparts.  Labor Peace Agreements are the best way to ensure Connecticut workers will be able to unionize without interference," Sen. Kushner said. "We want and we need good jobs with good benefits to support Connecticut's residents and Connecticut's economy. There's going to be intense competition for these new and highly lucrative cannabis licenses in Connecticut, and the balance in that equation is to ensure good jobs with good benefits."   
"As we looked at legalizing cannabis for adult-use, we recognized that this would be an industry being built from the ground and Senator Kushner and I wanted to ensure that the foundation of this enormous economic driver would be rooted and grounded in good union jobs that would provide livable/sustainable wages, healthcare benefits and retirement security." Rep. Porter said. "This is why LPAs are a critical component of this policy because it will guarantee our CT workers their right to unionized jobs without obstruction. Last but not least, I must acknowledge how LPAs will also help to close the wage gender gap since yesterday was 'Women Equal Pay Day,' and these unionized jobs will provide equity in wages regardless to gender affiliation."
Judiciary Committee House Chair Representative Steve Stafstrom:
 "As predicted, the long-awaited end to cannabis prohibition is proving to be a major economic win for Connecticut, said Rep. Steve Stafstrom (D-Bridgeport, House Chair- Judiciary Committee). As this burgeoning industry gets its legs under it, we must continue to ensure that those folks who were most impacted by the war on drugs reap the rewards. Delivering well-paying, unionized jobs is one way we are doing just that." 
General Law Committee House Chair Representative Mike D'Agostino:
"We worked tirelessly in Connecticut to draft and pass not only comprehensive but also equitable adult-use cannabis legislation last year," Rep. D'Agostino said. "Our law set the national standard and we plan on continuing that trailblazing effort as we remain committed to expanding long-term jobs for workers in the adult-use industry throughout the state. I commend UFCW for their efforts working alongside my colleagues and I to establish a framework that is pro-worker, pro-industry, and pro-economic development in Connecticut."
UFCW Local 919 President Mark Espinosa and UFCW Local 371 President Ronald Petronella:
"The UFCW's cannabis Joint Apprenticeship Training Program is the first of its kind and will train workers from seed to sale, while setting standards nationally for the industry. These programs will also help ensure that cannabis jobs mean living wage jobs, pathways to advancement, and equity, especially for marginalized communities." said UFCW Local 919 President Mark Espinosa 
"As this fast-growing industry continues to evolve, the UFCW is committed to our national Joint Apprenticeship Training Committee (JATC), comprised of labor leaders and unionized employers, to raise workforce standards and create a pathway to the middle class with good paying, well trained jobs with benefits." said UFCW Local 371 President Ronald Petronella
The WorkPlace President and CEO Joe Carbone:
"Trained employees are hard to find in new industries. I would like to recognize the efforts of UFCW to take leadership in preparing workers for employment in an industry which can provide a path to the middle class," said Joe Carbone, President & CEO, The WorkPlace. "There are many challenges facing individuals looking to work in the cannabis industry. It is imperative that we support Black and Brown Connecticut residents and victims of the War on Drugs to be able to fully participate and see what is possible."
Connecticut AFL-CIO President Ed Hawthorne:
"The Connecticut AFL-CIO is proud to endorse UFCW as Connecticut's cannabis union," said Connecticut AFL-CIO President Ed Hawthorne. "UFCW is leading the way when it comes to preparing and training workers for the state's newly emerging cannabis marketplace. Their leadership has brought labor and management together for a true partnership that will create job opportunities with living wages and pathways to advancement in our state. This comes at no cost to taxpayers and should provide Connecticut an example of how we can work together to grow jobs in this challenging economy."
Nautilus Botanicals CEO Luis Vega:
"This is my dream coming true. I'm from these neighborhoods that everyone is talking about, I've been affected by the war on drugs personally. I got to come to CT and really enjoy it, get my undergrad degree from University of New Haven and Masters at Albertus Magnus. I come from a union household, my father was a steward and he worked his way up. I had good medical insurance because of his union job, and it was really helpful when I got sick because my family was able to take care of me. Moving into this new endeavor I want my employees to be able to do that. The biggest thing is that Nautilus Botanicals is going to do the right thing by the community." said Luis Vega CEO of Nautilus Botanicals
BACKGROUND:
Last year, Governor Ned Lamont and the State Legislature passed legislation to legalize and safely regulate the adult-use of cannabis in Connecticut. The law requires all cannabis establishment licensees enter into a Labor Peace Agreement (LPA) with a bona fide labor organization as a condition of its final license approval.
UFCW Local 371 and UFCW Local 919 have been leading voices in the push to strengthen Connecticut cannabis jobs as the industry expands across the state. The UFCW is America's largest cannabis workers union and has been representing cannabis workers in states across the country for more than a decade. With its Cannabis Workers Rising campaign helping advance the development and stabilization of the emerging cannabis industry and supports good jobs in Connecticut and nationwide.
As part of UFCW's efforts, the union is committed to setting the standards nationally for the cannabis industry through crafting and supporting targeted legislative efforts, leading the way in industry coalitions, and ensuring that cannabis jobs mean living wage jobs, pathways to advancement, and equity, especially for marginalized communities.
UFCW Local 371 and UFCW Local 919 are part of UFCW International, which is the largest private sector union in the United States. UFCW International represents 1.3 million professionals and their families in healthcare, grocery stores, meatpacking, food processing, retail shops and other industries. Our members serve our communities in all 50 states, Canada and Puerto Rico. Learn more about the UFCW at ufcw.org.