SMART Union Members, Contractors Produce Free Metal Nose Pieces for Volunteers Producing Face Masks
Sheet Metal, Air, Rail and Transportation Workers Union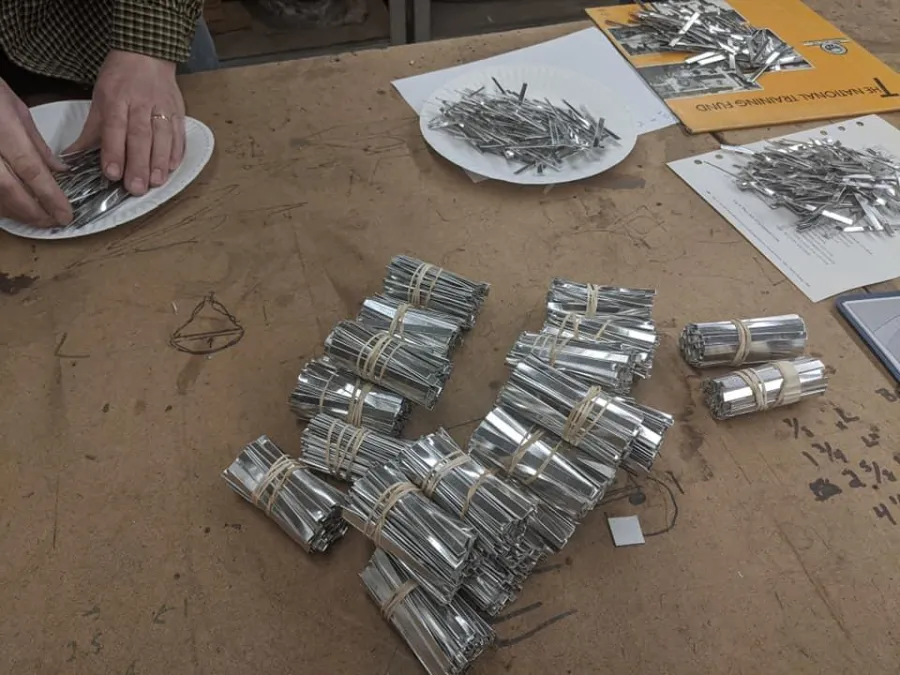 As health care workers and first responders across the United States continue to face critical shortages of face masks and other protective equipment, members of the International Association of Sheet Metal, Air, Rail and Transportation Workers (SMART) are collaborating with union contractors to produce and donate metal nose strips for the millions of masks being made by volunteer groups across the country.
The thin and flexible metal strips are critical to custom-fitting the top of a mask to a user's face, making them more effective, less likely to slip off and more comfortable to wear.
In late March, the Hillery Company, a custom metal fabrication shop located in Groton, Conn., began posting messages on its Facebook page announcing that the company would donate the nose strips to anyone looking to make masks.
"Hillery was asked by a local nurse to make the aluminum strips used on N95 masks so they could sew them in the cotton masks being made by volunteers around the country," said Hillery employee and SMART Local 40 member Joe de la Cruz in a message posted to the company's Facebook page on April 6. "I posted a picture showing a small box of strips on March 24th and it has since gone viral."

Since then, the company has mailed out more than 500 packages containing more than 40,000 metal nose strips.

"We have received requests from hospitals and small sewing groups from every state and Canada," noted de la Cruz on Hillery's Facebook page. "This is a grassroots effort and most of the folks asking for the strips are sharing stories about their loved ones going to work without protection."
With more than 3,000 requests totaling more than 300,000 nose pieces since March 24, requests quickly outstripped the company's capacity to fulfill and ship all the orders. De la Cruz reached out to leadership of his union for help. The response was immediate – union locals and union sheet metal contractors from around the country were eager to join the effort and effectively begin crowd-sourcing mass production of the small metal pieces.
[caption caption="SMART Local 40 members in Rocky Hill produce and donate metal nose strips for the millions of masks being made by volunteer groups across the country." align="right"]
[/caption]
SMART created an online request form and began publicizing it on social media on April 7. Within hours, the union had over 100 requests totaling more than 15,000 metal strips from volunteers making donated face masks from Alaska to Florida.
"We are producing high quality masks using Halyard N600 paper, which gives a N99 mask. These are for the high-risk areas of our hospitals," wrote Constantine of Brookhaven, Georgia, when submitting her request. (N95 masks are rated to filter out 95 percent of airborne particles; N99 masks are rated to filter out 99 percent.)
"I have made 150 so far for our community and have twice that many to go at least!" wrote Stacey in Lathrop, Mo., when submitting her request. "Thank you! This is a HUGE help!"
"So grateful for anything you can offer," wrote Jonathan of Medfield, Mass., when submitting his request. "We have made 700 masks so far, but pipe cleaners add to production time. We are a non-profit, sewing masks for over 40 groups, including the local police department and fire department, hospitals, doctors and nurses."
As each request comes in, SMART assigns it to union local near the ZIP code of the request. That local will then work with a union contractor in the area to produce the strips and deliver them to the volunteer or organization that requested them.
"We want to do everything we can to help and support health care workers and first responders who are on the front lines helping people and savings lives in our communities during this public health crisis," said SMART General President Joseph Sellers. "This is a great idea that began with one union shop in Connecticut and took off like wildfire. We are now working to scale this up as fast as we can across the United States and Canada."
SMART, the International Association of Sheet Metal, Air, Rail and Transportation Workers, is one of North America's most dynamic and diverse unions with 200,000 members. SMART's members ensure the quality of the air we breathe, promote energy efficiency, produce and provide the vital services that move products to market and passengers to their destinations. We are sheet metal workers, service technicians, bus operators, engineers, conductors, sign workers, welders, production employees and more. With members in scores of different occupations, we advocate for fairness in the workplace, excellence at work and opportunity for all working families.